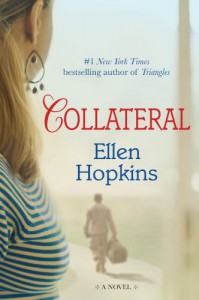 Ellen Hopkins hosted a contest a while back for photos of military families. I sent one in of Mike and I, just for the heck of it. I didn't think I'd be one of the winners, but when she contacted me via email, I was so excited. I love Ellen Hopkins. I've read every one of her books, with the exception of Triangles. I'm a huge fan of her writing style.
Collateral is the story of Ashley, a 20-something year old woman who meets a Marine named Cole and falls in love with him. She is a bit apprehensive at first, but eventually falls head over heels in love with him. She sticks by his side through everything, including multiple deployments. Eventually though, she starts to re-evaluate her relationship with Cole when she realizes just how hard being a military wife/girlfriend can be.
Have you seen those memes that say "NAILED IT!" on them? There needs to be one of those for Collateral. It was so bizarre reading the words that I've been saying since Mike joined the military. I remember when he first left, and not hearing from him for weeks at a time. It was scary, it was upsetting, and it was so hard to explain the rollercoaster of emotions to people who hadn't personally dealt with it. I always said that unless you've lived the military lifestyle, you can't even begin to understand how hard it is. Ellen Hopkins proved me wrong with Collateral.
Ashley and Cole's story is filled with ups and downs, just like any real relationship. On top of the normal struggles of being young and in love, they're dealing with long-distance. On top of that, they're dealing with the military.
The characters in Collateral were all supremely realistic. I know women like Ashley's friends, who assume that because they're husband/boyfriend is gone, they can flirt with other men. I was furious at the way Derian treated Spencer, but I know it happens.
And Cole. Cole, Cole, Cole. My heart broke along with Ashley's by the end of the book. What an ass.
It was so great to read a book that recognized the struggle that those left behind by military members face. I can't compare what I've gone through to those overseas, and I'm not going to try. But I loved that for once there was a character in Ashley that I could identify with. Someone who I could say "YES! I know exactly how that feels!"
Ellen Hopkins created an amazing novel with Collateral. I think this has been one of my favorite books written by her to date.
More reviews can be found on my blog,
Booktacular